How to get rid of condensation in double glazing will vary in so much as it is generally assumed it is a cheaper and less messy to repair the unit rather than fit a replacement sealed unit. However as most sealed units fail one at a time rather than all at the same time it would more than likely be cost prohibitive to call out out a window repair company to clean the condensation from the cavity. It would be far better to replace it with a brand new made to measure double glazed unit.


How a se​​​​​​​​​aled d​​​​​ouble glazed unit is made
To fully understand how you get Condensation on double glazing it is worth knowing how a insulated sealed double glazed unit is made and what are the component parts. Double glazing is a very simple idea, you have two panes of glass with an aluminium spacer bar seperating the glass thus creating a cavity. The spacer bar is in actual fact a hollow tube which is filled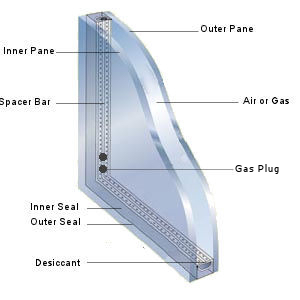 with silica-gel crystals. Once the spacer bar is sandwiched between the glass the perimieter is the filled with butyl sealant.
The silica-gel crystals soak up any moisture that is present before being sealed and the butyl sealant prevents any further moisture from entering the cavity.
When you discover condensation inside double glazing, it is because the butyl seal has broken down which in turn has allowed moisture to seep back into the cavity it is probebly a very small amount, however when the sun shines on the window it heats the moisture turning in to steam and it grows daily.
Replacement sealed double glazed units
The alternative to repairing a double glazing unit is to simply replace it, it is a far cleaner and safer way of curing any condensation issues. Replacement double glazed units are made differently now than they were previously, for example:
They now have a primary and secondary perimeter seal which gives a far better adhesion to the glass and spacer bar.
The butyl sealant is of a different consistency allowing greater movement.
In most cases sealed units are made in a very clean environment on state of the art machinery.
There is now a choice of upgrading sealed units to A rated argon gas filled units with a low emissivity coating
There is now a far less chance of the sealed unit failing than from older double glazed units
In conclusion the question is not How to get rid of condensation in double glazing? but why would you. In my opinion unless you have a full house of failed double glazing it doesn't make sense to pay as much for a repair as it is for a brand new double glazed unit fitted by a time served professional glazier.
Read - Misted Double Glazing Replaced